Here is some information about the Scanlens Archives series which was released as a modern take on a vintage classic.
"Following the discovery of the original colour transparencies used for the classic 1966 "Flag Series" Football Cards, Scanlens Archives in conjunction with the AFL Combined Past Players And Officials Inc (AFL X-MEN) and Scanlens Sweets, has pleasure in offering a unique range of collectables designed to take 'memorabilia' to the next level."
Gallery quality, limited edition framed prints are now available capturing player poses from the Golden Age of football which is in stark contrast to today's predictable action shots. Technically superior to typical photographs from the period, each image has been lovingly restored to optimum industry standards with a result of such stunning clarity, that it feels like you can reach back over 40 years and touch your heroes.
To celebrate this major find, an entire set has been donated to the Australian Gallery of Sport at the MCG, where it will take pride of place in the permanent collection.
Because the images include shots omitted from the original footy card release, 10 never-before-published images will be on show for the first time ever.  Players including John 'Sam' Newman and Barry Davis finally get a guernsey in what would otherwise have been lost to history.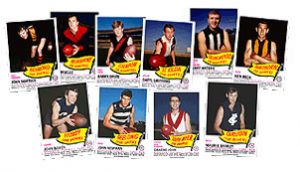 A strictly limited edition series of collector cards is also planned which will reproduce, for the first time ever, all 82 player images in what will become the ultimate homage to the 1966 Scanlens classic.
"They're artistic in many ways, not your standard player mug shot." – David Studham, Historian, MCG
"We are absolutely thrilled that the photos will have a permanent home at the MCG." – Gillian Brewster, General Manager, MCG Museum
"I can't get over how thin I was." – Ken Beck, President, Hawthorn Past Players Association