I've been asked this question many times over the years. The answer, like all answers I guess, depends on a number of factors which I have talked about in other posts – but mostly concerns card condition. Rare or not, once a card's edges are soft, the back is damaged or creases are present, the value will likely plummet. Having sold this set as complete a few times, and many individual cards over the years, I have a good idea of how much collectors are willing to pay.
Anyway for this exercise I'm going to talk about the Australian Rules set (Scanlens also produced an 18 card set for Rugby League and Soccer) and assume we are talking about a set in very good condition generally, with perhaps some cards being better. These value estimates are based on 2021 prices and demand, not 2010 when the hobby was at its peak.
Firstly we need to divide the 18 players into four groups:
1 – Polly Farmer – This card is super rare, mostly likely due to my theory (which I see has been shared on other card websites!) that most of these cards were damaged in production – perhaps by a printers grip. I know of many collectors out there that own 17 of the 18 cards in this set, with "Polly" being the only gap. That makes this card worth between $4,000 (in very good condition) and $8000 (in excellent condition or better)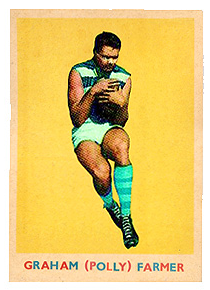 2 – Superstars – Ted Whitten, Ron Barassi, Bob Skilton and Graham Arthur. The names that have endured throughout time and seen these guys enter the AFL Hall of Fame. You could argue Graham Arthur belongs in the next group below, but I have included him based on value – his card appears to be the second rarest in the series after the Polly Farmer card, and the price remains strong. These four cards are worth between $800 (in very good condition) and $1500 (in excellent condition or better) each.


3 – Captains and Brownlow medallists – John Schultz, Verdun Howell, Ken Fraser, Allen Aylett, Neil Roberts, and the Goggin "Twins", Bill and Matt, who were not actually twins. Matt Goggin aside (he departed the Cats at the end of 1961), they were all champions of the day, many of whom went on to coach in the VFL. These six cards are worth between $700 (in very good condition) and $1000 (in excellent condition or better) each.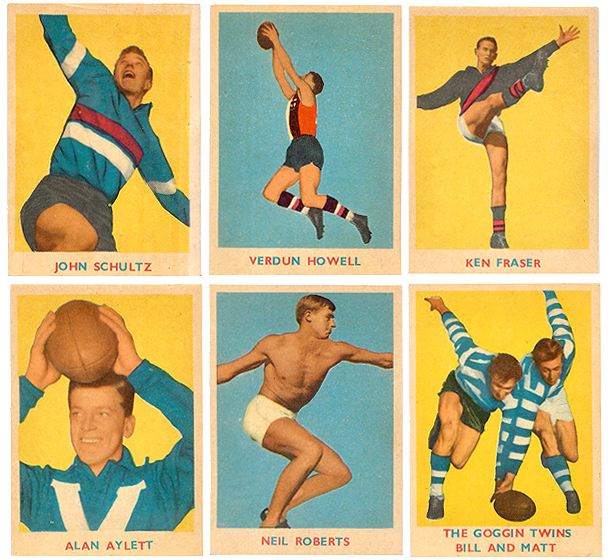 4 – Notable players of the day – Brendan Edwards, Haydn Bunton Jnr, Alex Epis, Len Fitzgerald, Murray Weideman, Ron Evans, Bob Johnson. All had their moments in the 1950s and 60s, but their names haven't endured like the others in this set, although Murray Weideman did win a premiership for Collingwood in 1958 as stand-in captain on the day. Len Fitzgerald was a retired SANFL star by 1963, having left Collingwood at the end of 1950, and Haydn Bunton Jnr never played VFL, only SANFL and WAFL. Also harming their value is the fact that only Ron Evans and Bob Johnson are depicted in their team's VFL guernsey, even if the latter left Melbourne at the end of 1961 and was playing in the WAFL, as was Ron Evans. These seven cards are worth between $600 (in very good condition) and $900 (in excellent condition or better) each.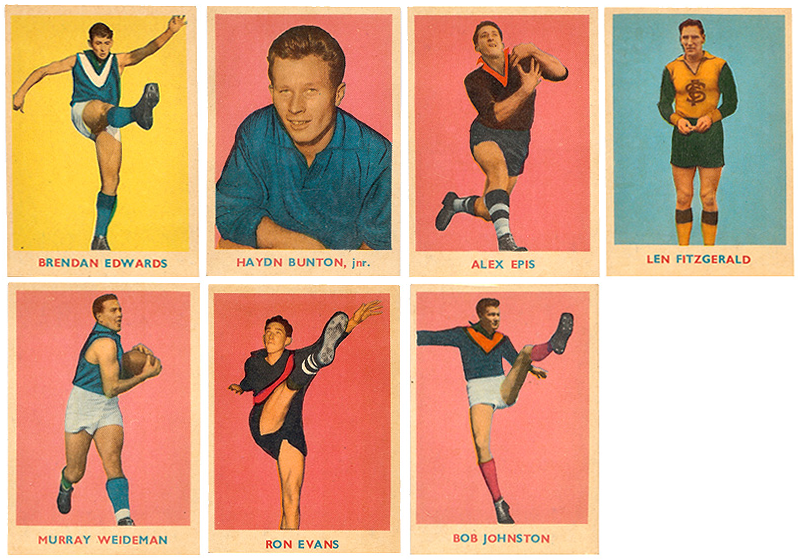 So my value conclusion?
In very good condition the set is worth about $15,000 and up to $25,000 in excellent condition or better.
Likewise I'm often asked if the set is a good investment. My answer to that is, in so much as an "investment" should always appreciate in value, and you don't necessarily need to have a vested interest in it, like shares or an apartment somewhere that you've never stepped foot in.
Quite a few years ago a complete set in excellent condition sold for $36,000, but would the same set achieve that price today? Probably unlikely, mostly due to the fact the collectors are dwindling in number and not being replaced by younger people, who prefer to download rather than collect. Also as older collectors retire, their cash-flow situation may have tightened.
So in a nutshell, just like a new car, no it is not a good investment, but one could argue that a rare piece of valuable sporting history is still priceless!