So many collectables, so many years
Where do you start to understand what you have? Thousands of different posters, stickers, bottle caps, badges and postcards were all issued – along with the popular cards – for many sports such as football, Rugby League, cricket, horse-racing, tennis, athletics etc, as well as non-sport trade cards for TV shows like Kung Fu and Planet of the Apes, and all manner of other subjects from dogs to airplanes.
We have listed some Victorian Football League card series here to give you an idea of the main issues and the era they come from.
Early cigarette issues 1900 – 1920:
The early days – most cigarette cards came from the UK or USA, but local production started, with the subjects being mostly footballers, jockeys, horses or military related. Common manufacturers and issuers were Sniders & Abraham (Standard Cigarettes), W.D. & H.O. Wills, Capstan/Havelock and JJ Schuh (Magpie & Peter Pan brands). Some examples:

Confectionary and product/service premiums 1920 – 1939:
Other companies saw the benefit of including cards with their products, and they started to appear in chocolates, sweets, cakes, and as grocery store give-aways. Common manufacturers and issuers were Hoadleys Chocolates, Allen's sweets, MacRobertson's, McIntyre Bros, Suburban Premiums, Griffiths Black Crows, Thorp's, Pals Periodical Magazine, Craig & Hales Confectionary, Clarke-Ellis Confectionary. Often collected by children (and mishandled) these are some of the rarer series. Some examples:

Depression era cigarette cards 1929 – 1934:
A period that provided some of the most easily found series, due to the fact that so many people smoked, yet no one was in the habit of throwing things away, these have therefore survived the decades since in large quantities. Common manufacturers and issuers were W.D. & H.O. Wills, Godfrey Phillips (BDV), Carreras Tobacco, Turf, Giant Brand. Some examples:
Post war 1945 – 1962:
Newspapers, department stores, petrol stations, cereal manufacturers and other food companies got in on the act in this period. Common manufacturers and issuers were Kornies, Argus Newspaper, Atlantic Motoring, Victorian Nut Supplies, Coles Department Stores, Fyna Foods, Golden Fleece, Jonco Football Shorts, Besters Sweets, Coca-Cola, Harpers Easi Oats. Some examples:

Scanlens era 1963 – 1989
The golden period of collecting for the baby-boomers and Gen-Xers. Common manufacturers and issuers were Scanlens Gum, Mobil Petrol Stations, Kelloggs, Twisties, Sunicrust and Tip Top/Sunblest Bread, Dinkum Pie Company, Four 'n' Twenty Pies, Peter's Ice Cream, Ardmona Fruit, Big Ben Pies. Some examples: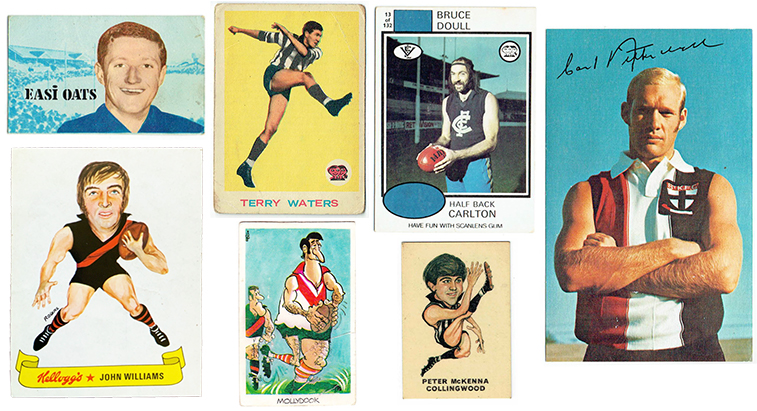 Modern era 1990-2000s
Cards were becoming big business in the USA, and companies without any service or an accompanying product like gum or cereal set out to cash in on the boom by creating large card series and labelling them "collectables". Common manufacturers and issuers were Select, Regina, Stimorol, Teamcoach and newspapers in different states.
(Note – unfortunately due to production of mass quantities we cannot help you with these collections)
Hopefully this will help you answer the questions – "What cards do I have?"